Meet Flat Cami. Since I have no means of taking photos, I scan my knits. This is almost done. My work is a little sloppy, so it might become my beach cover-up; it matches my blue batik bikini perfectly. The light blue is Paton's Brilliance, the dark blue is an obscure Italian one that is identical to the GGH Mystik the pattern calls for. I like this knit, even though my technique is deplorable. It's a logical pattern, it's portable and it seems really flattering on everyone who knits it. Which I kind of need right now, since I finished Simply Marilyn in my bulky wool and...I don't want talk about it.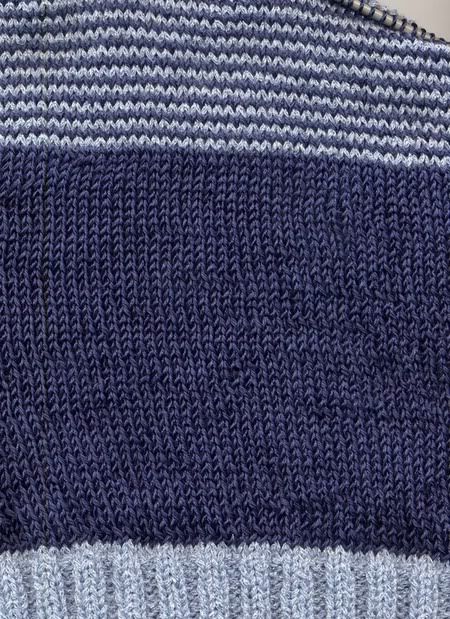 This weekend I tried to purchase a bicycle I'd been stalking for two weeks online. I "accidently" slept late that Saturday morning, mainly to prolong a dream that involved me hanging out in a castle with Prince Harry (Prince William was mostly absent, which surprised me). Nothing unholy, just me being friends with princes! Anyhow, I went to the place and my bike had been SOLD! Heartbreak followed. The bike was gorgeous, and from England:




I was so mad I went to WEBS, my future place of employment. They are having a massive sale, and I didn't want to miss it. Yes, I engaged in a little retail therapy, albeit EXTREMELY DISCOUNTED retail therapy.

I got some golden Reynolds Lopi to make a present for the bicycle I will eventually have: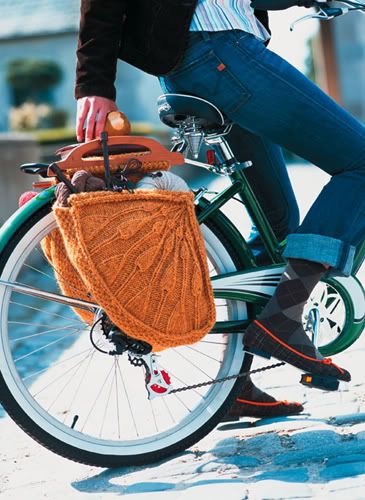 AREN'T THEY NEAT? They are called panniers, which is also a favorite Indian food of mine (well, pann-EER). There were so many colors of Lopi, I can't believe I picked the one used in the photo. And it's yellow. Un-me, but fun.

I scored a bag of Jo Sharp Desert Garden cotton for a very low price. Sucky yardage though. I love Jo Sharp's yarns and designs, but didn't have anything in mind for this, but it was seriously cheap. It's a lovely green. I have no idea what to use it for, maybe a longer version of Grace from Knitty, with a leaf design worked in to keep it from getting boring? It's an aran weight cotton is blended with microfibre, people compare it to Rowan's Calmer or All Season's Cotton.




Everything I like is for heavier or lighter yarns, like Cable Eight from Interweave: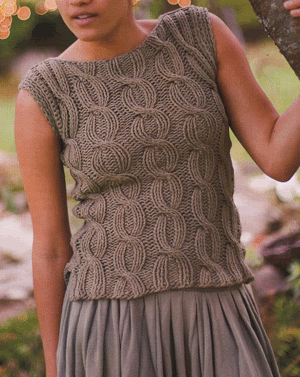 I can't really see doubling this yarn up, it'd be unweildy, and it is really crappy yardage as it is (60 yards/50 grams).

I picked up just ONE skein (that's all it takes!) of Silky Wool for Branching Out a really nice summer scarf. I started it while watching the depressing but beautiful film "Virgin Suicides" and ripped it out a billion times. I wasn't planning to start it for real, I just felt like trying it. Today was so leafy and green, it seemed apros pros.




I got a few balls of German super bulky merino, which is actually really light, in brown and turquoise. It is very space age. This will probably grow up to be a clunky tank top, maybe with some colorwork, something based on Teva Durham's work, which is wonderful and full of wit.




Her new book features some overly sullen looking people modeling some seriously clever designs. The leaf sweater shown in Interweave is gorgeous, but I have too many big sacky sweaters as it is...her tanks are great though. Especially the ballet inspired one with cap sleeves and this: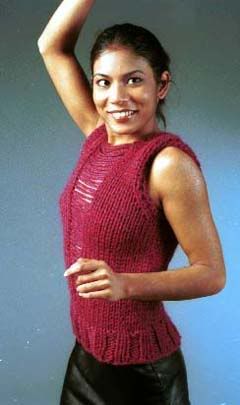 Which I love love love. It's ventilated!

Oh, and I know that all this yarn buying action seems to fly in the face of the "I'm broke" refrain I've been crying all...well, since forever. I have to stress how very cheap it all was, after the sales and my rocking discount. And it is my one splurge, it does wonders for my attitude.

Phew. Time for knitting.

Oh, and a big HI to my mom, who recently entered the fiberous world of stitchin' and bitchin'! She is already making up sweater designs!


Cirilia