FIRST--I learned Magic Loop last night. It's really neat, and I'll probably teach it in the Knit Differently class I'm co-teaching at Webs this fall. I'm teaching two classes and also hosting and promoting College Knitting Drop-in, which I'm told is called Drinkin' Drop-in by one of my superiors...probably because I once tried to move my Stitch and Bitch group to the Tunnel Bar.


I learned Magic Loop to do this wonderful shrug. It's cleverly constructed, and the perfect way for me to use the luscious Misti Alpaca chunky that we've all been burying our faces in at work. The stuff is like warm, fuzzy silk, and it smells like roses. It's manna for knitters. I have the perfect button ready and waiting, a big wooden flower.

I've finished three things since last posting, the sweater for Stitches and a Baby Bobbi Brown Bear (it's my perogative), a Blue Sky Alpaca pattern that makes good use of alliteration. It's cute, it has a huge lumpy head and he's definitely on the chubby side, which he's a little sensitive about. No pictures of those, but I'll take the camera to work soon and get some.

I DO have pictures of my ballet tee!





This was such a fun knit. I really want to try it with the Brown Sheep Cotton Fleece, which would mean NO ENDS. This sweater is stretchy and ends pop through on occasion. What a well-written pattern though. Can't wait to knit more for Loop-d-Loop.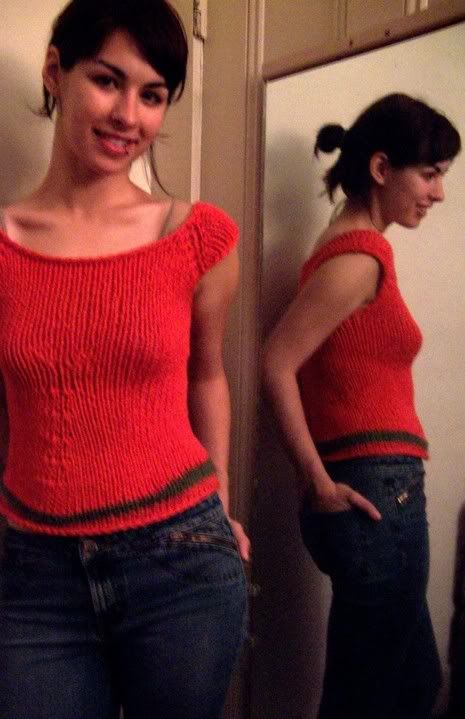 All this knitting for the store=lots of store credit. Here's what I've collected:

Enough of this wonderful new Kureyon color to make a Rosedale without the intarsia block.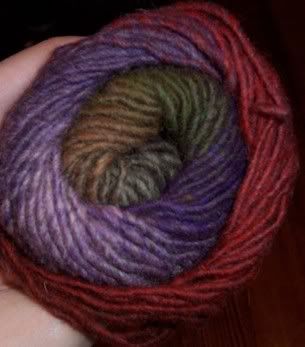 Some of this LOVELY hand-dyed yarn from Great Adirondack, which will probably be a wide feather and fan or ostrich plume scarf/shawl: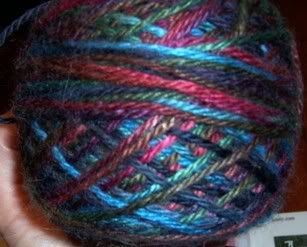 Some stuff for a felted bag or two. This isn't all of it, there are some deep plum skeins of Lopi and also a few discontinued Noro colors. The fabric is from Valley Fabrics and it's GORGEOUS and perfect for what I'm making. The best part is the creepy girl who is drawn in black behind the floral pattern. It's right out of "The Virgin Suicides".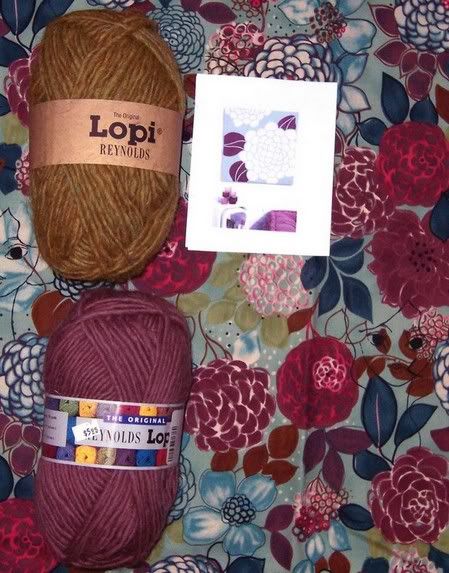 Random Noro, some awesome boot sock yarn destined to be Mrs. Bucket fingerless gloves and a book by my hero, the hilarious Maggie Righetti. Please, read her. Even two pages will help your knitting.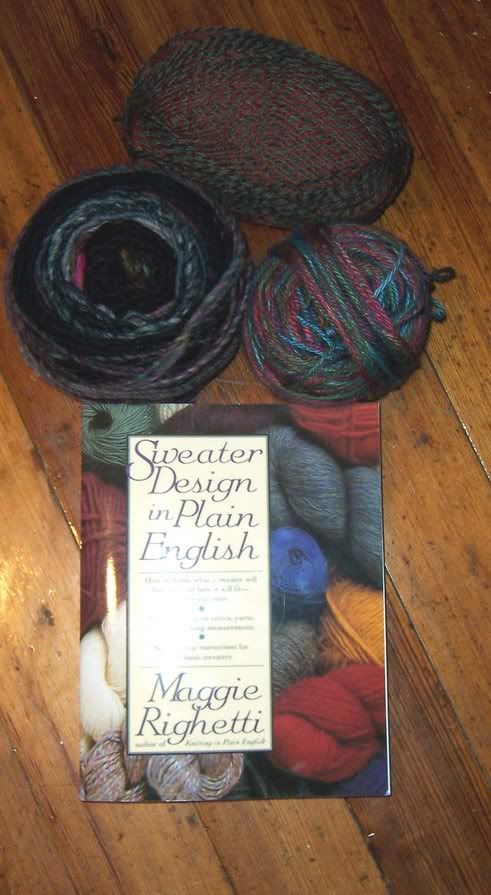 My special order from Brown Sheep! I got some sport weight Nature Spun to make these fair isle mittens. Very excited. I also got a lot of the fingering weight to make a fair isle cardigan from Rowan Vintage style. It didn't photograph well, so it's not here. It's nice stuff, GREAT colors and it's soft but not overly so. It's definitely wool, which I want for this project. It was also DIRT CHEAP. For the yardage and quality, it was ridiculous.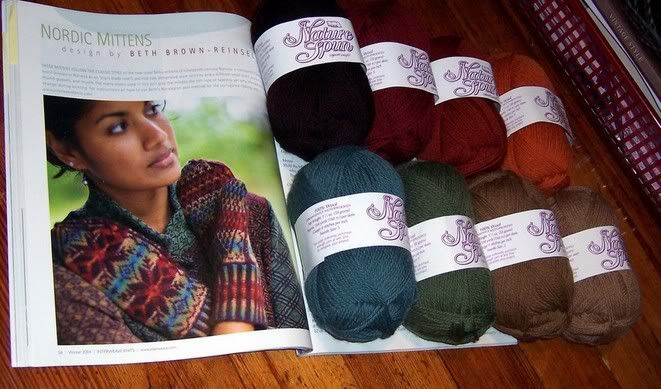 Lastly, I received some lace-weight yarn from Handpaintedyarn.com. Not as soft as the Malibrigo, but dyed the same way...I was expecting more variegation to be honest. These are very solid colors. Which is probably good, but I love the variegation of Malibrigo. The orange (Rhodesian) is going to be an Elizabeth Zimmerman shawl and the pink (Damask Rose) might be something from a Gathering of Lace, the Rose is a Rose shawl. This won't be happening ANY time soon, mind you...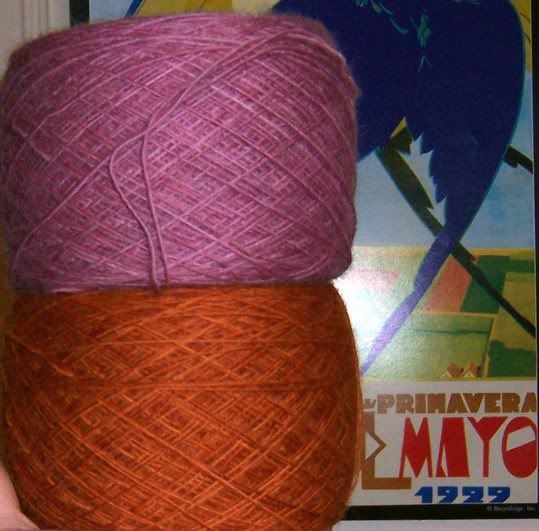 I'm knitting another store sample garment, out of Cascade Eco+, a lovely grape color, #3479. It's a Yankee Knitter pattern, a really cute one. Easy easy pattern, which is good, because I try to study for the GREs while I knit this.

It's kind of chilly out, and I'm really, really excited about this. I've always loved fall and winter, but knitters REALLY love cold weather.

I know it's kind of boring to just see pictures of yarn. I hope to post more FOs soon. Now that I know I can knit a sweater in a day (the ballet tee) procrastination seems silly.

Time to go to the World of Yarn! That's what the owner's son thinks the store should be called, and I'm all for it.

CR