That's me this week, I've been on a knitter's high! I was feeling really out of it at work, sort of sick but trying to tough it out. The Ladies are just too much fun. Their generosity and patience is just amazing, it really reminds me of my days waiting tables with the all-lady staff at the fabulous Acton Jazz Cafe. I leave everyday with a big smile.

This was the week of FREE STUFF! Free leftovers from yarn reps, wonderful gifts from a hand-dyer coworker, treasures from the library, store assignments, GIFTS FROM MY SECRET PAL!...it goes on and on and on! I really hate to get so jazzed about materialistic stuff, but this is truly special stuff, from the beautiful and thoughful gifts to the invaluable information to the outright glee that comes from FREE YARN.






This picture contains my library haul, an original Elizabeth Zimmerman and a huge Principles of Knitting, by J.H. Hiatt. It's out of print and a co-worker told me that is sells on eBay for $400...and I can kind of see why. It's a massive tome with every technical factoid you'd ever need. But it discourages Continental, which I disagree with. Still, I'll probably be renewing that one a billion times.

Also shown: Erika Knight's Knitting for Two. Yeah, it's maternity, but whatever, a lot of the patterns can be worn whether with child or not. And the baby patterns are really, really cute. Little papoose sacks and Peruvian style hats, stuff like that. I have a new little boy cousin on the way who could use some special duds.

There is a pattern on the right that is a two dimensional kimono, knit in one flat piece. I'm taking a design workshop this summer and you can't create anything that requires traditional sweater construction. I'm not too into the poncho, so I'm hoping to adapt this pattern to include a flower eyelet lace pattern (instead of the horizontal rib). I think shawl collars will be so nice in the fall and winter, and I've been drooling over this sweater that Summer wore on the O.C. which actually turned out to be something they scored at Urban Outfitters for very little money. The real one is acrylic, I think I'll be using Cascade Ecological Wool in white.




Most exciting--MY LATEST SECRET PAL HAUL! She sent me some Blue Sky Alpaca's Knitter's Balm, which has a great clean herbal scent that I love, and it's really greaseless, just like it says! Perfect for knitters, and people who like moisturized hands but not goop. ALSO, she sent a Jane Ellison collection, for Noro yarn! I love it, I've coveted it forever! These patterns will work for so many yarns, I am so so excited about this, thanks a million Secret Pal. She (or he?) is really throwing me off, this package came from Minnesota (if I remember correctly) and the last one was from Washington.

On the way home from work I picked up some strawberries from a (get this) drive-through farm stand. I love Western Mass. Eric found a mutant one: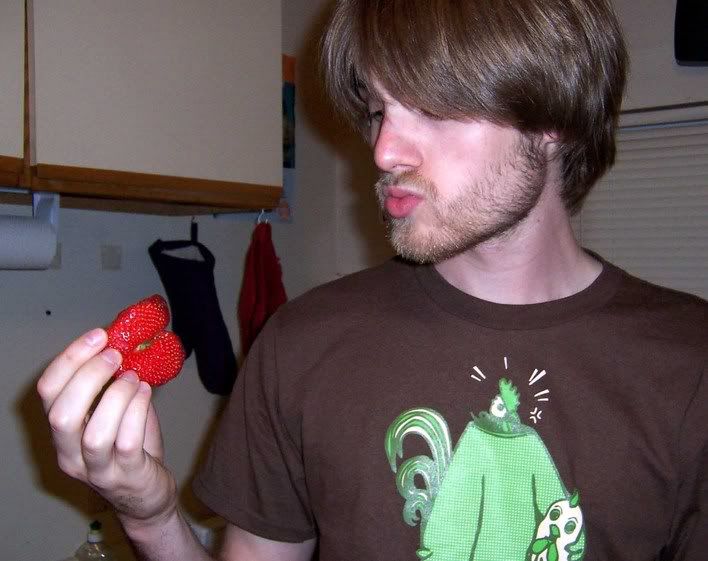 I started a sauce, some brown sugar, red wine and butter. Mmm. I know the butter sounds weird, but it was just a little.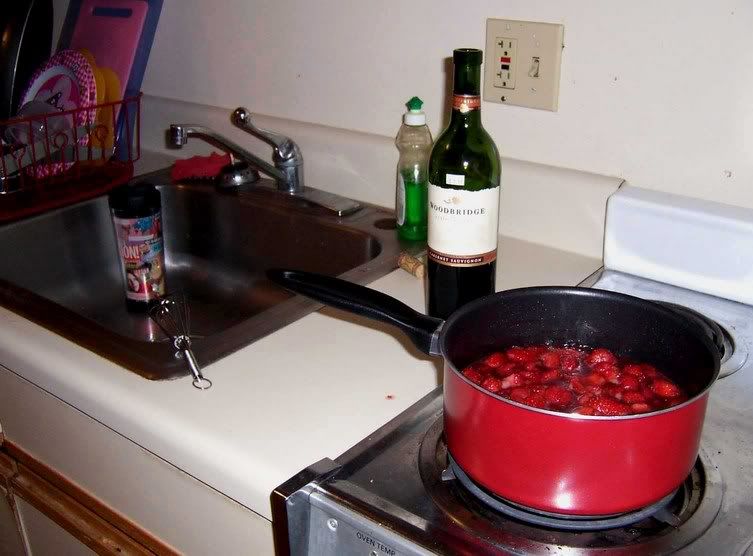 On with the yarn parade. This is Air from Berroco, a neat wool-nylon blend that has a metallic core. Looks very futuristic, I'm thinking of making Libby Baker's Crosshatch Cloche with it. 1920s fashion rules, I decided. It was from the yarn rep, and free free free!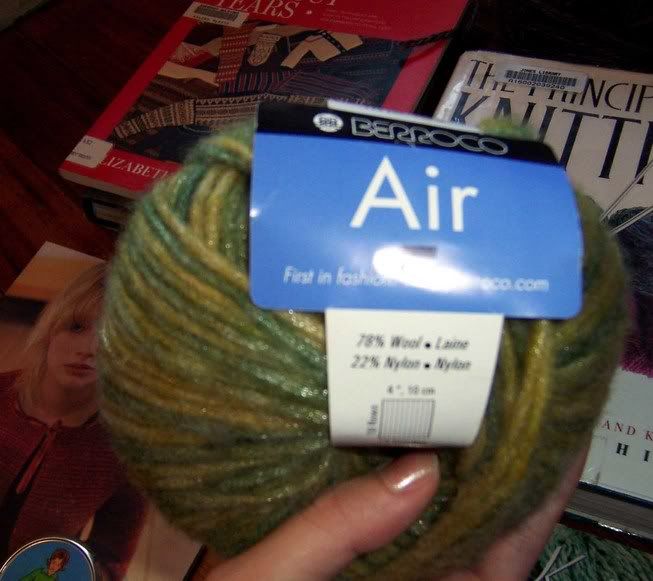 Next is some beautiful hand-dyed yarn from my coworker Gail Callahan. She calls herself the Kangaroo Dyer, and she is so talented. She is hilarious, generous and kind and she has an amazing eye for color. She brought in some stuff she didn't want, and I pounced on it. It's alpaca with a little nylon, and it's simply gorgeous. It's slightly shiny, a complex grey with red, blue and charcoal running through it. It reminds me of a storm. I have SO much, I'm thinking a scarf for the Boy and maybe this shawl: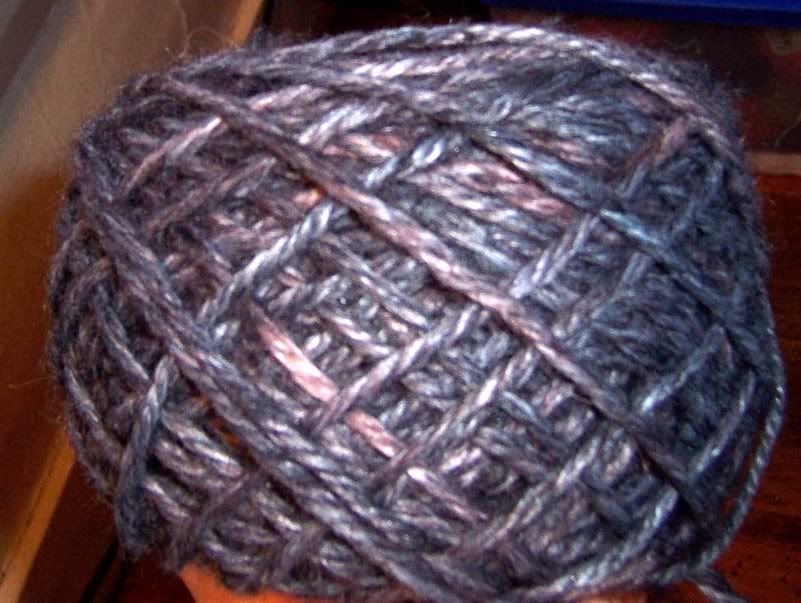 She also brought me a hank of Malabridgo, because she gave one to my coworker Huelo a few weeks ago and didn't want me to feel left out. This is a thoughtful, thoughtful woman. This looks like a sunset!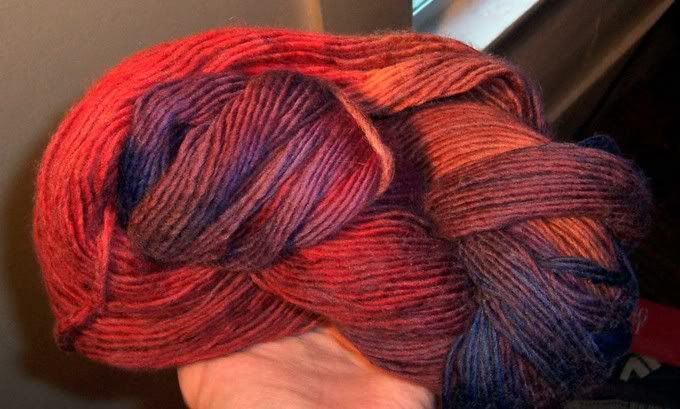 Moving on...I've been working on a Gryffindor scarf because an amazing batch of Malabrigo Sunset (the real one, not Gail's version) came in, it's a super saturated yellow. I hpaired it with burgundy to get this Harry Potter dork scarf. I'm double-knitting inside out, but the reverse stockinette looks so good I might make more this way and just not turn them inside out.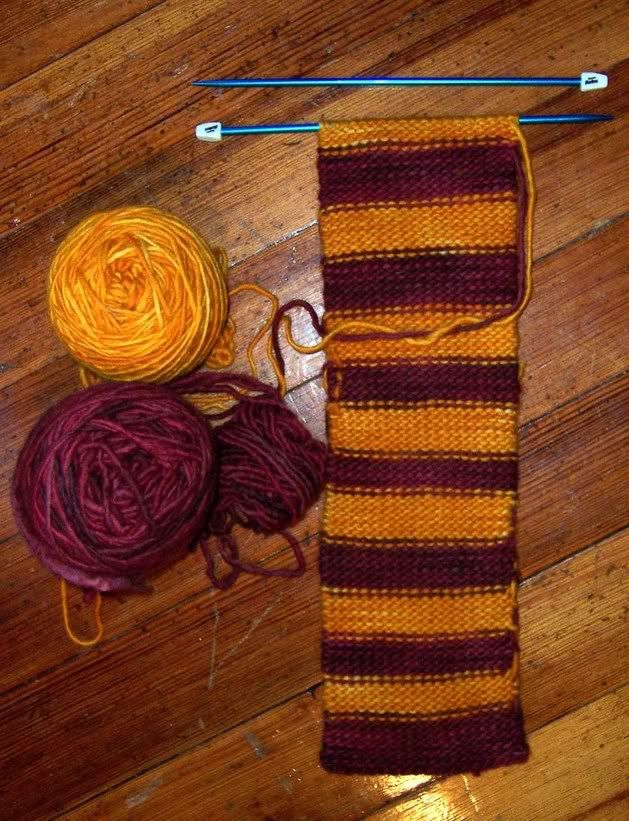 It's totally camoflauge with my couch covering: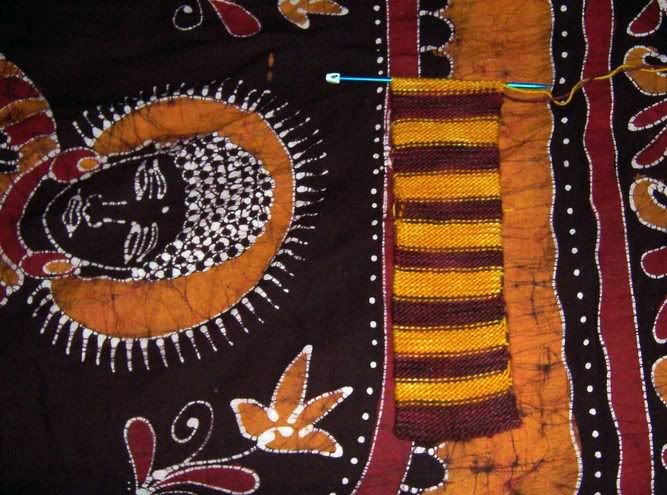 Okay, drumroll please--Jill Montgomery, who is in charge of classes at Webs asked me to teach a class! It's going to be part of a series on quick gifts, this will be an afghan. She took me to a room with three boxes teeming full of the new Valley Yarns, our store brand. They are FANTASTIC. Look at them! I chose mostly greens, because I love them, and thought it needed something more. I thought a pink, but Jill added this coral red, and it's perfect. This sample is evocative of a long-stemmed rose. I have to put together a little curriculum as well as an afghan pattern. I can't believe the level of responsibility they give us younger knitters, it's really nice. I can't wait to teach this!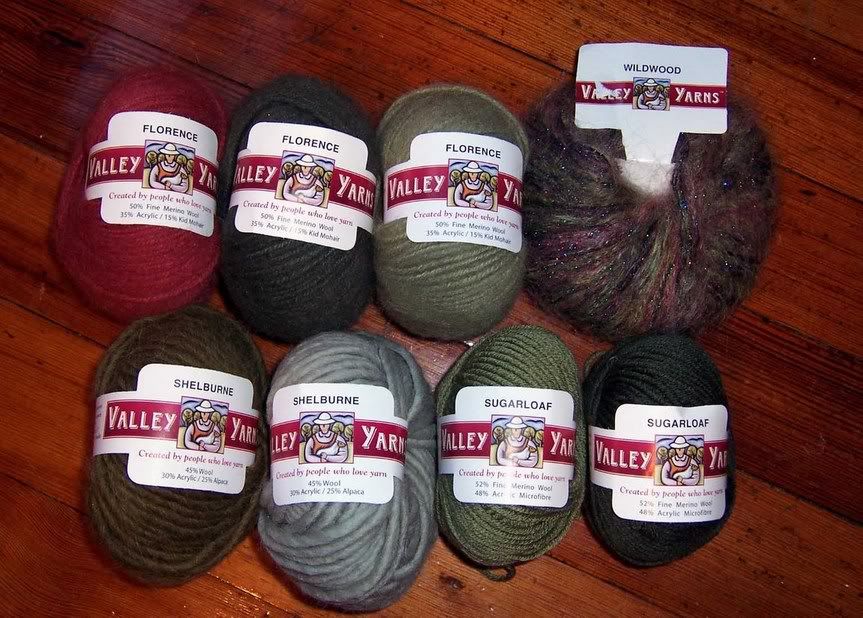 What else? Yeah, there is more! I've been swatching up a storm, it earns store credit and it's fun. Elsebeth Lavold's Silky Tweed was a pleasant surprise. I'm knitting a Branching Out scarf out of Karabella Cashmere for the store...I'm not too into this cashmere to be honest. It just isn't alive the way some other yarns are, it feels overly processed...sort of like my hair right now =/



Last but not least, the first meeting of Happy Hour Knitting is this coming Friday, 6:00 p.m. at the Tunnel Bar in Northampton. There are huge leather chairs and huge glasses of wine. Hope to see lots of local faces who are looking for a laidback knitting group and some laughs.

<3

Cirilia